VF 2024 – Transit Guide
Venue location: Sheraton Vancouver Guildford Hotel
15269 104th Avenue, Surrey BC. V3R 1N5
INFORMATION IS SUBJECT TO CHANGE. DOUBLE CHECK YOUR ROUTE BEFORE DEPARTURE.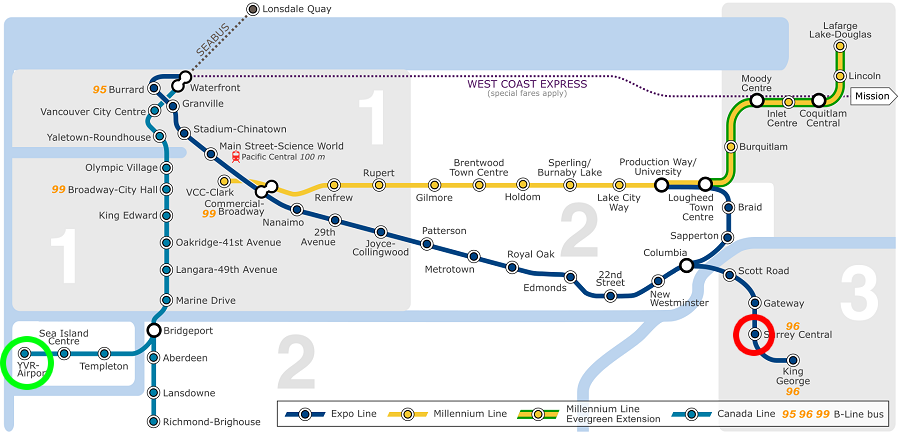 Useful Information and tips:
If you plan on taking more transit on the day of your arrival, it is best to purchase a day pass. You will need a 3 zone pass out of the airport anyway.
Busses only take coins (and don't give change) and sell single use bus transfers that can be used for 90 minutes on all busses.
Kiosks on skytrain stations accept credit and debit cards.
Day passes (10.75$) are more cost effective than single tickets if you plan to make more than one trip, as they allow for unlimited trips until the end of service for the day. They can be purchases at kiosks on skytrain stations.
Single fare tickets bought at ticket vending machines on stations can be used for up to 90 minutes as unlimited transfers to all transit services.
Keep your ticket or card as proof of as fare checks may happen and lead to fines.
For skytrain, the city is divided in 3 zones, which have different pricings for skytrain tickets.
On weekends, holidays and after 18:30 all services are charged as a single zone.
Bus drivers are usually knowledgeable and willing to help you get down in the right stop, if you know its name or if it's near a landmark or point of reference. (E.g.: Guildford mall for the con hotel)
Arrive at the stops early, especially in suburban areas, where service is less frequent.
Plan backup routes. Problems are rare, but may occur, and with more routes you'll have a better chance to get to your destination.
Some SkyTrain stations have "Plan your trip here" digital kiosks with maps, departure times and transit alerts that can be useful if you are a bit lost.
Bus stops can be inconspicuous. If you can't find a stop that should be there, look at the posts for a rectangular sign. It will have a white T in blue background, a yellow stop number and the bus numbers, as well as the final stop of the line in blue.
https://alerts.translink.ca/ has up-to-date information on issues with the transit system.
https://twitter.com/translink is less detailed, but replies to messages if they aren't overloaded.
https://new.translink.ca/next-bus lists the next busses scheduled to a stop.
The Transit app has real time info and bay numbers for all busses and skytrain lines in metro Vancouver. https://play.google.com/store/apps/details?id=com.thetransitapp.droid
TransLink can also be called at 604.953.3333 for up-to-date transit information and help.
https://www.yvr.ca/en/passengers has useful information and maps of the airport.
Google maps will be your friend. Remember to pre-load routes if you don't have internet access.
FROM SURREY CENTRAL, Brown route:
Use the 326, 335, 337, 501, or 509 busses. Get off at the 104 Ave/152 St stop. The hotel will be just across the street.
Alternative, with 6 extra walking minutes:
Take the R1. It runs every 9 minutes and is an express bus. Get off at Guildford Exchange and walk towards 152 St. Cross the street towards the next block. The hotel will be across the road further into the block. Bus 320 has a similar route but runs less frequently.
From the Vancouver YVR Airport, Red route:
1 – via Transit, 1h40 trip:
 Note that there is a $5 CAD extra fee for any tickets that are purchased on and leave Sea Island, where the airport is located.
If it's raining and you don't want to get wet, get to level 3 (where the check in counters are) and walk from the area your flight arrived on to the other building (from international to national, for example) until you reach an area with no check-in counters and an information desk. Opposite to the information desk will be elevators and escalators to the covered skybridge that provides access to the skytrain platform. People on information kiosks are usually available and willing to help.
Look for the Skytrain or Canada Line signage. You will need to purchase a zone 3 ticket to get to the hotel. Access to the skytrain is on the second floor, but elevators are available. Take the Canada Line to Waterfront, Switch to Expo Line to Surrey Central. Out of the Skytrain, follow the directions on the top of the page.
2 – By Car, 45 minutes trip:
Taxis: Will cost over 40 dollars but are a reliable way to leave the airport. Look for the taxi signs on Level 2. Wheelchair-accessible vehicles are available. Cars have significant trunk space, but a tip is usually expected.
Rideshare Apps: Pick-up areas on level 2. Finding a car may take some time, so make the request while inside the airport and wait until the car is closer. If it's raining there's no good place to wait outside of the terminal.
From the Abbotsford YXX Airport, 1h trip:
 Direct, by bus. 1h trip:
Ebus runs a route that passes by both the Abbotsford airport to Surrey for around 30 dollars. Busses leave Abbotsford at 11:40, 13:20, 19:55 and 20:40 daily. More information can be found on  https://www.myebus.ca/  (Leaving from Abbotsford YXX to Surrey SGRC). After arriving in Surrey on the Eastbound 105 Ave. stop, walk towards 152 street, in the opposite direction to the bus and take the first right, then the first left. The hotel will be 70 meters into the block.
Alternative, Transit: 2h20+ trip
Double check your route, as the best option varies greatly through the day
Take bus 21 to Abbotsford on Approach at Cornell stop by the airport. Get off at Bourquin Exchange. There, take the 1 or 2 bus to Highstreet. There take the 66 until Carvolth Exchange. Finally, take the 501 bus until 104 Ave at 154 St. The hotel will be 200 meters further along, in the same direction as the bus.
From Downtown, 1h trip:
Take a bus or walk to the nearest Expo line skytrain station. Ride the Skytrain to King George until Surrey Central station. There, follow the directions on the start of the document.
From Richmond, 1h15+ trip:
Take a bus that will take you to the nearest Canada line skytrain station. Ride the skytrain to Waterfront and switch to the Expo line to King George. Get off on Surrey central. There, follow the directions on the start of the document.
Alternatively, take the 410 bus to 22nd Street skytrain station on the Expo line. Take the train to King George until Surrey Central. There, follow the directions on the start of the document.