We are excited to be returning this year to the Sheraton Vancouver Guildford Hotel In Surrey, BC!
Located across from Guildford Town Centre in Surrey, The Sheraton Vancouver Guildford is a landmark building in the business and entertainment districts of central Surrey. Recently renovated, it offers spectacular views, large guest rooms and suites, as well as a restaurant with global cuisine and a year-round outdoor pool. There is also a fitness center and spa for guests to enjoy and is dog friendly! 
Hotel booking will open soon, please keep an eye on this space for more details.
Booking a room in the hotel supports Vancoufur! However, you must ensure you book ONLY using our booking link. If you are not seeing the Vancoufur logo during booking and in the email confirmation, you are not booking with us. Our block has the lowest rate guarantee. Lowest Vancoufur rate applies for extended stay if you want to come early or stay later. We've sold out hotel rooms in the main hotel every year. Limited rooms available. First come first serve. Book as early as possible to ensure your spot in the main hotel. If you need to cancel, use the self serve cancellation link in the confirmation email so the room can be returned to the block.
Overflow hotels:
$199 Sandman Suites Surrey-Guildford / 3 star / 10608 151a St, Surrey, BC V3R 1J8 / +16045827263 / 6 minutes walk to Sheraton Guildford
$145 ($168.20 total/night) Days Inn by Wyndham Surrey / 1 star / 13373 King George Blvd, Surrey, BC V3T 2T5 / +16045852300 / 9 minutes drive – Uber vouchers to assist with transport costs to and from the main hotel will be provided*
(* limited to two $20 CAD vouchers per day for 3 days, six total vouchers will be issued, valid for thurs/fri/sat/or sun depending on your choice )
$145 ($168.20 total/night) Comfort Inn Surrey / 2 star / 8255 166 St, Surrey, BC V4N 5R8 / +16045768888 / 12 minutes drive – Uber vouchers to assist with transport costs to and from the main hotel will be provided* ( Free breakfast and parking | Free in room WiFi and access to fitness room)
If you are having an issue or need a question answered, we can assist you at hotel@vancoufur.org, or on our discord server! 
Hotel Guest Conduct Expectations
Vancoufur seeks to maintain a strong and positive relationship with our hotels and venues by working together to ensure that we can continue to be welcome at this venue (or others) to host our event year over year. Attendee conduct is very important to maintain a good relationship with our venue. As a convention attendee you must abide by the hotel and venue's rules and policies when you are on the premises and treat the hotel and its staff with respect and courtesy.
Respect all signs
Smoke or vape only in designated areas
Clean up after yourself
Do not vandalize or damage hotel property or decor.
Keep signs and promotion materials to designated spaces and do not litter.
Do not put things on walls without permission from the conventions staff so you get the correct adhesive tape (so the walls aren't damaged)
Be respectful of other hotel guests
Remember, your behavior reflects on everyone. Be respectful of the hotel, their staff, and hotel property.
Clean Room Contest
2022's Clean room contest was a huge success! So we will be offering it again for 2023!
To encourage people to clean up after themselves and leave as little mess and work behind for the hotel staff as possible, we hold a contest to see who can leave their room the cleanest after they depart from the hotel. The hotel staff will judge who left their room the cleanest, and the cleanest room will win a free hotel stay for VF2024! More information will be posted closer to the event.
Dealers, Quiet and Loud Rooms
If you require a loud or quiet room please let us know at hotel@vancoufur.org. Dealers will have a separate block that they will be given access to after being accepted, so they do not have to worry about booking immediately
Cancellation can be done via self service cancellation link in the email confirmation. DO NOT CALL THE HOTEL TO CANCEL A ROOM as it will not return the room to the convention's booking block.
Loud Rooms must abide by the following rules:
Loud rooms are not permitted to use dedicated subwoofer or high bass audio systems which can cause noise problems for other guests who are a long distance away. Music must be kept at a reasonable level (80db or lower.)
Loud rooms are arranged specifically to reduce hall traffic and limit noise pollution to other areas to minimize complaints, if you do not indicate you are a loud room, do not host a party or it will be shut down. You have been warned.
SMOKING AND VAPING are not allowed inside your hotel rooms. There are designated smoking areas, outside and if you do not adhere to them, heavy fines will be assigned to offending rooms.
Doors and windows must be kept closed at all times to prevent noise pollution from spreading to other floors and outside the building. (It echoes, and the neighbors don't like it)
Your room is exclusively YOUR responsibility for the duration of your stay and you will be held responsible for the things that happen in it. Keep it clean and damage free, or you will be charged accordingly.
If you plan to host a public party, you will be required apply to the party block and abide by all party block rules. Public parties that are unregistered outside the block will be shut down.
"Double Queen & King with Sofabed"
$149 CAD+Tax/night per Night – Double Queen or King Suites + sofabed (price does not change for quad occupancy.)
Accessibility rooms are available., please email hotel@vancoufur.org with your needs.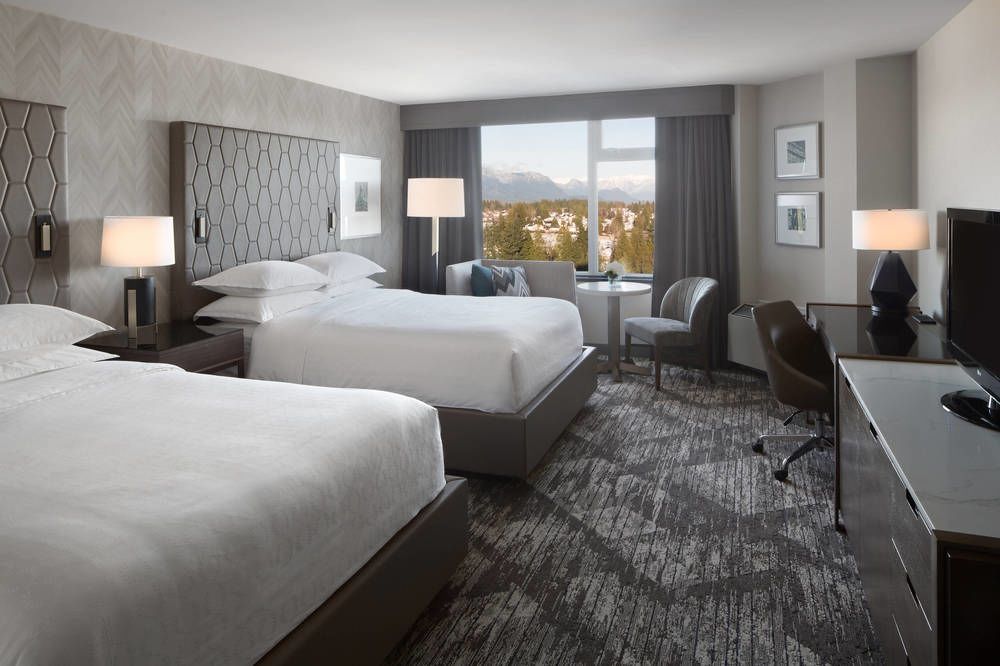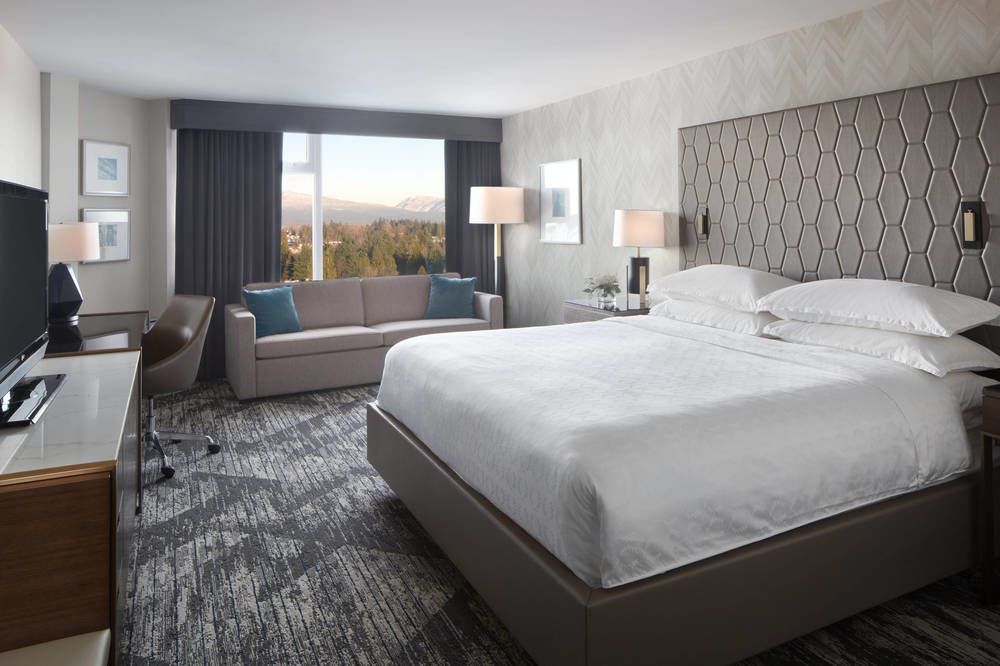 "Club Room" Double Queen or King available. (based on double occupancy)
$184 CAD per Night**
**Triple occupancy for club suite is $204, Quad occupancy $224 based on reported occupancy.

Access to Club lounge.
Private access floor.
Complimentary non-alcoholic beverages and business services with honor bar.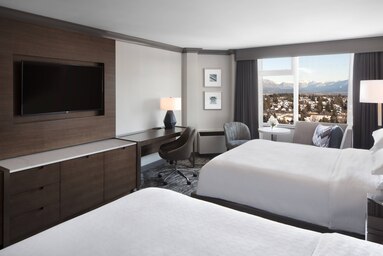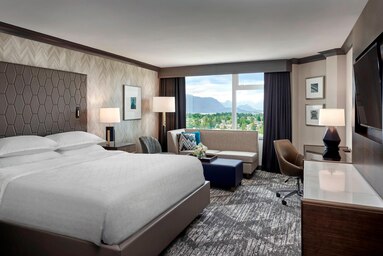 Main Hotel Amenities:
Access or capacity of amenities such as restaurant, pool, shuttle, or fitness center may be at modified capacity or closed due to covid. Exact limitations will not be known until closer to the event.
Free parking with in /out privilege is a special perk when booked with Vancoufur. 15% off all onsite food outlets. Free WiFi. Parking for non hotel guests is pay parking.
Year round Outdoor Pool & whirlpool open till 11pm
Shuttle from Surrey Skytrain Station to Hotel
Onsite Fitness and Spa centers
24 hour Room Service
Club lounge offers free breakfast and evening Hors d'oeuvres
Restaurant
Air Conditioned
Mini Fridge
Lots of nearby food & shopping
Main Hotel Pet Policy
1 pet permitted. One dog under 90lbs for no additional fee. No cats permitted.
Deposit/Cancellation policy
All reservations must be guaranteed with a major credit card or a first room night deposit. You can cancel anytime before 2 days prior to arrival or 1 night will be charged. No show will be charged 1 night of sleeping room. DO NOT CALL THE HOTEL as it will not return the room to the convention's booking block. Questions? Email hotel@vancoufur.org.
I live local, why should I book a room?
There are a lot of good reasons to stay in the hotel, even if you are local. Being right in the middle of the action, not worrying about having to drive or catch transit home late is a big plus.  You can relax and enjoy the time with your friends and catch great late night events without having to worry about when that last bus is coming. If you drive, you get free parking all weekend with your room. It supports the con, builds our relationship with the hotel, and it makes it easier for you to enjoy the full range of programing without worrying about when you have to leave. Its also really nice in the morning just to walk down the stairs and be right back into things without having to deal with transit or traffic to be right up front to snag that coveted badge slot in the dealer's den.  It's a lot less stress at the convention and convenient to enjoy everything the con has to offer.
Can't afford it on your own? There are lots of ways to find Roomshare options, from Conroomies, our Discord Channel, or to our telegram chat.
Special Thanks to Andromeda Consultants for assisting us with VF's hotel needs.