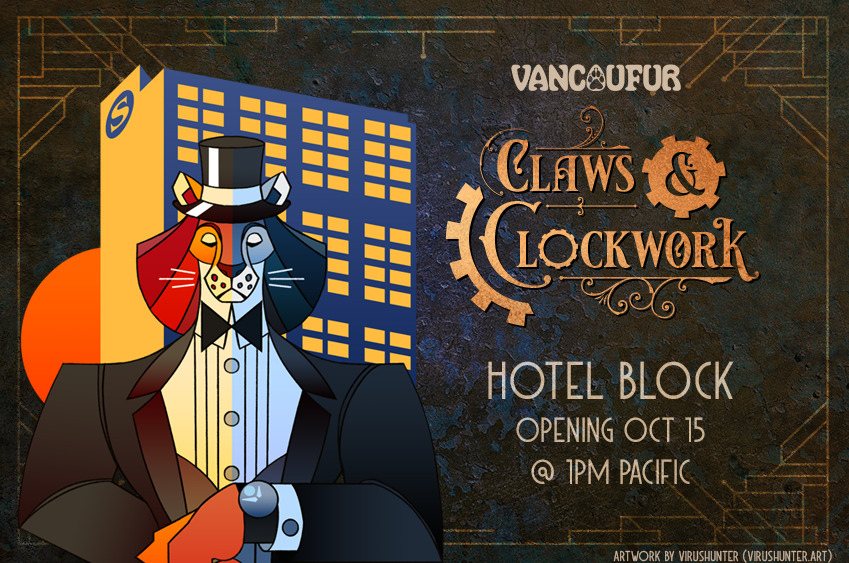 Our hotel block and overflow will be open Oct 15th at 1pm. Overflows will also be open at the same time through the same booking link that will be posted on our website.
Please note that cancelation policies have changed and there are now fees for cancelation and transfers! See our hotel page for full information.
If you are disabled with a moderate to severe mobility issue, please contact hotel@vancoufur.org BEFORE the Oct 15th opening to speak with us about your needs. This is not a guarantee of a room, but we will try our best to work with you. 
Be sure to coordinate well in advance with your friend groups so people do not double book and have to cancel rooms to avoid fees. After Oct 15th, and rooms are sold out, there is likely nothing we can do. Standard Queens and kings are $155 CAD + tax per night base rate. Queen rates vary based on occupancy, kings do not. There are also club rooms as well.
Please note that if you intend to apply for party block, you will need to have an existing reservation! Volunteers from last year who want access to staff block must be hired and onboarded before this date, so if you are previous staff who have not yet signed up, make sure you fill out the volunteer form so we can get you on board!